Metal Building Insulation Service In Gainesville, GA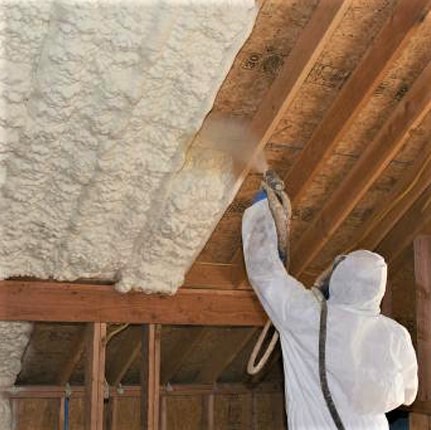 Property owners aspire to have a well-insulated metal building that maintains comfortable temperatures, reduces energy costs, and promotes sustainability. However, the challenge of selecting the right insulation material and dealing with the installation process can make this seemingly straightforward task daunting.
These challenges often lead to feelings of overwhelm and frustration. You don't have to deal with metal building insulation issues. At Georgia Insulation, we understand these concerns. We specialize in spray foam insulation, providing solutions that transform your metal building into an energy-efficient space, alleviating your worries and helping you achieve your aspirations.
SCHEDULE AN INSPECTION WITH US
Who We Are
We are a leading insulation company based in Gainesville, GA. We offer professional insulation services, including spray foam in metal buildings, to enhance energy efficiency and comfort. We're committed to providing long-lasting energy savings solutions. Our services extend to all types of properties, ensuring enhanced comfort and sustainability.
Spray Foam Insulation Service
It's a superior method of insulating metal buildings. Unlike traditional fiberglass, spray foam in metal buildings can provide a complete air seal and vapor barrier, preventing issues such as condensation and moisture that often occur in metal buildings during humid weather.
It forms perfectly to the metal ribs of the building, accommodating all shapes and sizes. Additionally, metal structures tend to conduct heat, transferring heat from inside to outside during winter and vice versa in summer. It enhances the building's energy efficiency by reducing heat transfer and moisture accumulation.
Spray Foam Insulation Advantages For Metal Buildings
Metal is an excellent choice for constructing industrial and commercial structures due to its cost-effectiveness, durability, and low maintenance needs. However, it's a great heat conductor. That's why spray foam insulation for metal buildings offers a range of benefits.
The following are the top three advantages you can expect from this insulation method:
Enhanced Temperature Regulation:

You can achieve superior temperature control within the metal building.

Condensation Reduction:

Its air-tight seal prevents moisture from infiltrating the structure, reducing the risk of condensation-related problems like moisture and mildew growth.

Improved Structural Strength

: The foam adheres tightly to surfaces, adding an extra layer of support and reinforcing the overall integrity of the building.
Commitment To Excellence
At Georgia Insulation, our commitment to excellence is more than just a slogan; it's an integral part of our mission. Our top-notch insulation services yield significant energy savings and promote comfortable living environments. Our dedication manifested in using superior materials, meticulous installation processes, and unwavering attention to detail.
Our experienced team takes time to assess each project individually. They work closely with our clients to understand their needs and provide tailored solutions. This personalized approach ensures that every insulation job meets and exceeds client expectations.

Get High-Performance Metal Building Solutions With Georgia Insulation
No building owner deserves to struggle with the common problems of metal building insulation, such as condensation, noise, and water leakage. These issues can lead to other problems like moisture, rust, and corrosion. We empathize with your situation at Georgia Insulation and are committed to providing effective solutions.
We offer spray foam insulation services, the superior choice for metal buildings. We have a simple three-step plan to start working with us:
We assess your current insulation status free of charge.

Our experts will inspect your building and fitting solution.

We start working to ensure a professional installation.
So why wait? Reach out to Georgia Insulation today, and let us help you transform your metal building into an energy-efficient space.